Tips And Tricks To Decorate Your Teenage Daughter's Bedroom
It may seem like a few days back when your daughter was just five, and you had her room looking like a fairy's castle. But she is growing up, and you have noticed that the glitter wall stickers that she fancied are now missing. It may be time to decorate her bedroom to suit her current age, hobbies, and preferences.
To many people, teenagers are complicated and indecisive. But we beg to differ. They are just at a point in life when they try to discover who they are, which means she is regularly switching alliances. However, with a little inspiration, you can create a fabulous bedroom for your teenage daughter. Here are a few tips you can try.
Before You Begin
Now that your daughter is a teenager, she will want to have a say in decisions that involve her. Therefore, please make a point of seeking her opinion throughout the process (unless it is a surprise, of course).
Consider your daughter's style to come up with a suitable theme. Is she a tomboy or a girly girl? Every girl has a distinct personality. So, find out what she likes. Nothing beats the frustration of a dissatisfied teenager.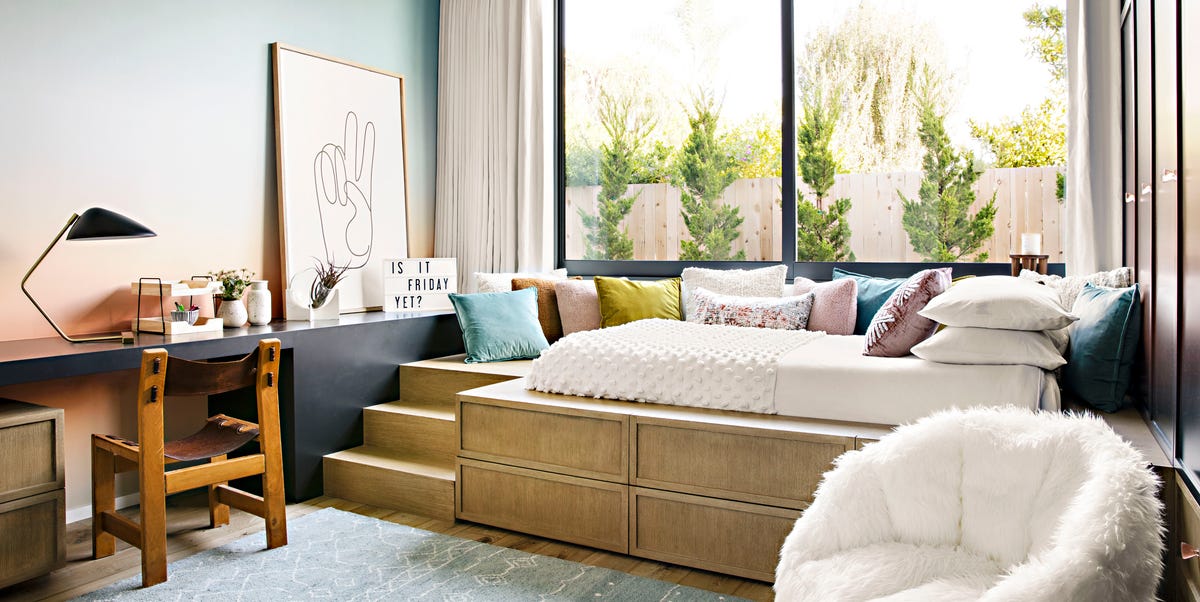 Things You Can Try
1. Declutter
Look over the bedroom and remove anything you will not be using. Cut costs by recycling whatever you can or monetize the opportunity by holding a yard sale. Donate clothes and dolls she no longer needs. Make sure you ask her before you do this to avoid giving away something she values.
Remember to remove things from the window sills. Having windows that open all the way lets in fresh air and light, making the room appear spacious.
2. Incorporate bold colors
There are plenty of ways to bring color to your girl's bedroom: painting the surfaces, changing the wallpaper, hanging up photos and decals, or throw pillows on the bed.
If you have used neutral hues as the base color, you can incorporate bold color combinations. If she still loves pink, you can give it an elegant twist to provide it with an adult feel.
3. Go for multifunctional furniture.
Furniture that serves more than one purpose is great for saving space. You can use tons of options, for instance, a bed with pull-out drawers in the bottom to create more storage space. You can forgo a single bed and opt for a bunk bed with a retractable desk. Wire baskets from ferm Living can be used to store laundry or magazines. But it can be flipped-over and an oak top attached to make a mini-table.
Tip For Thought
Learn your daughter's preferences and style to pick the most appropriate theme, colors, and patterns. If she has a small bedroom, play around with illusions. Mirrors are an excellent way to make the room software larger. Add accessories like brass hooks, beddings with geometric prints, and a few playful details to breathe some life into the room. Remember to incorporate a plant or two to introduce nature to your daughter's space.